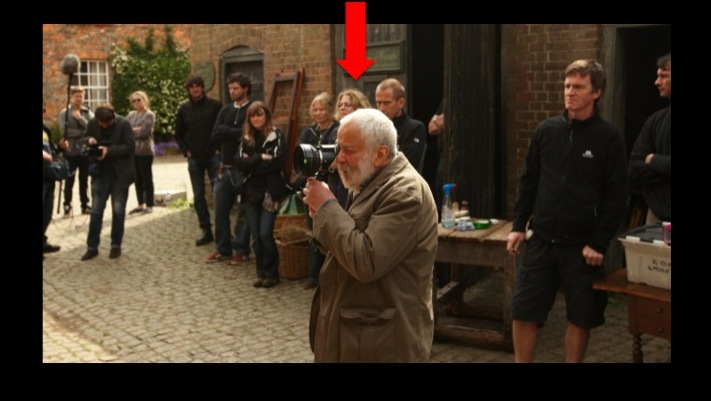 All images © Thin Man Films Ltd, photo credit Simon Mein unless stated.
'Researching Mr. Turner', 2 May 2015, Derby Film Festival, The Quad, Derby.
SCRIPT
In early December 2012 the cast and crew of 'Untitled '13' were brought together for the first time at the film's rehearsal base – the former Central School of Arts and Crafts in Holborn. Mike Leigh's process is intensive and collaborative, with character, action and dialogue gradually emerging from months of discussion, research, improvisation and distillation, and this method is the same regardless of whether the subject is historical (Topsy Turvy and Vera Drake) or contemporary (Secrets and Lies, Another Year). The process begins during the six-month rehearsal period and then on location over the four-month shoot. For now though, we had assembled at U'13 base to hear, very broadly speaking, what was about to happen. Each actor then had a meeting with the heads of department Jacqueline Durran costume, Chrissie Blundell hair/makeup, Suzie Davies art/design and research, me and then received a starter pack which included a CD of popular music from Turner's lifetime, a massive chart of local, national and international events which covered the lives of their character, their character's parents, grandparents and even great grandparents, plus other items such as examples from Charles Dickens's Sketches by "Boz". The aim was to give each of them a flavour of what was to come – without frightening them too much. But an information Tsunami was on its way.
As the contents of the starter pack suggests, research for the film had begun a year and a half before the first cast and crew gathering, when I started work as the consultant historian and art historian in June 2011. At this early stage is was basically Mike and I doing a lot of reading on a very broad range of subjects, starting with Turner himself (biographies, catalogues) and more broadly Georgian/Early Victorian British and European art, culture, history, politics and society – 1775 to 1851. At this point, everything was up for grabs in regard to themes, timescale, characters and so on, although we knew from the beginning that Timothy Spall would play Turner. So unless Mike decided to have an actor playing 'young Turner' it was likely that the main action would begin about 1820 as Tim was in his mid-50s. Later we made some site visits to the Royal Academy of Arts, Turner's home from home; Petworth House, the residence of Turner's patron Lord Egremont, and a place the artist returned to on many occasions;
… and Margate, a popular Georgian seaside resort in Kent with particular childhood associations for Turner and prized by him in adulthood for its distinctive light and spectacular sunrises. Out of this reading and exploring, dossiers were created of Turner's family, friends, partners, fellow artists, patrons and associates from which the broad timespan of the film was eventually settled, potential themes and events defined, core characters selected and then actors cast.
While working closely with Mike throughout, I was also on hand to advise the other departments who were gradually joining the production team, including the members of the art and design department, headed by Suzie Davies. Very early on, we knew Mike wanted to reconstruct the Royal Academy summer exhibition of 1832, the occasion of the famous 'red blob' incident between Turner and John Constable (played by James Fleet). To prepare for this and other scenes at the RA – as well as the other fine art set-piece in Turner's private gallery attached to his house and studio in Queen Anne Street – Assistant Producer Helen Grearson and I set about requesting agreements from a large number of very generous museums and galleries including the National Gallery, Royal Museums Greenwich, Tate, Sir John Soane's Museum and the Museum of Fine Art, Boston to reproduce their images, and then selecting hundreds of relevant works that could be included in the reconstructions. Using the 1832 summer exhibition catalogue, I managed to trace some of the paintings which were actually exhibited in that year or sourced images which were close in date by our 'hero' painters such as George Jones's Nelson Boarding the San Joséf at the Battle of Cape St Vincent of 1829 (Royal Museums Greenwich), which Jones (Richard Bremmer) is shown 'varnishing' in the scene where Turner prowls around: 'the great lion of the day' as he described himself.
Set photos by Jacqueline Riding. George Scharf image Royal Academy of Arts.
The Royal Academy set, built within the magnificent marble hall of Wentworth Woodhouse, South Yorkshire, needed to be flexible because chronologically later scenes would also be shot there: the Queen Victoria (Sinéad Matthews) private visit of 1845, and Turner's final attendance at the Royal Academy just before he died, during which he views a small group of early Pre-Raphaelite works including John Everett Millais's Mariana (Tate), exhibited 1851. On a separate set, we also needed images for what were nicknamed 'the grumbler' scenes – that is, the short scenes of exhibition visitors and critics. Their dialogue derived from unflattering contemporary reviews and comments on Turner's later work. This is a rare example of pre-scripted dialogue.
The next research stage was a sort of actors' history/art history boot camp. This happened alongside – and fed into – their individual and group sessions with Mike. Everything and anything that was read or experienced could find its way into the character, the scene and the dialogue. The first actors to begin rehearsing were of course Tim Spall (JMW Turner), followed by Paul Jesson (William Turner senior) and Dorothy Atkinson (Hannah Danby). This is Turner's close domestic unit at the beginning of the film. Very early in the process Mike, Tim, Paul and I visited Turner's House in Twickenham. This is the villa that Turner designed himself, and where father and son had lived contentedly, on and off for many years before moving permanently to Queen Anne Street in London's West End. The film begins after the villa had been sold in 1826. But walking around this extraordinary, and quirky house, really helped to bring to life this key and very tender relationship between a famous, talented son and a modest, devoted father.
When researching a character like JMW Turner, one challenge is knowing when to stop. The shelves in the Clore Study Room at Tate Britain creak under the weight of Turner scholarship – I should know. And here I should acknowledge the countless Turner scholars whose work over many years (centuries in fact) formed the basis of our research. At Tate Britain Mike, Tim Spall and I sifted through the (frankly daunting) Turner Bequest – 10s of 1000s of sketchbooks, watercolours, drawings – while Tate conservator Joyce Townsend was very helpful on Turner's technique and palette. As Tim Spall was covering all this, plus everything from the poetry of Alexander Pope to Turner's own jottings ('Dear Molly be Still' is featured in a later scene) and from Ancient History to Classical Literature he was also learning to paint and draw with the film's painting advisor Tim Wright – an extraordinary achievement.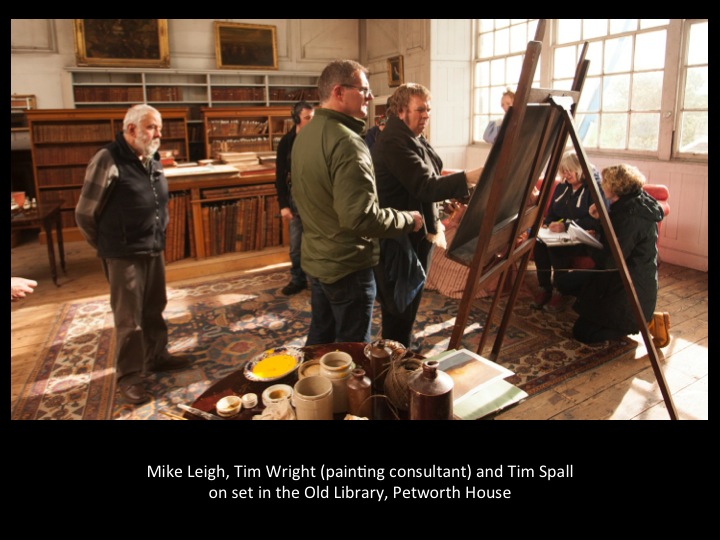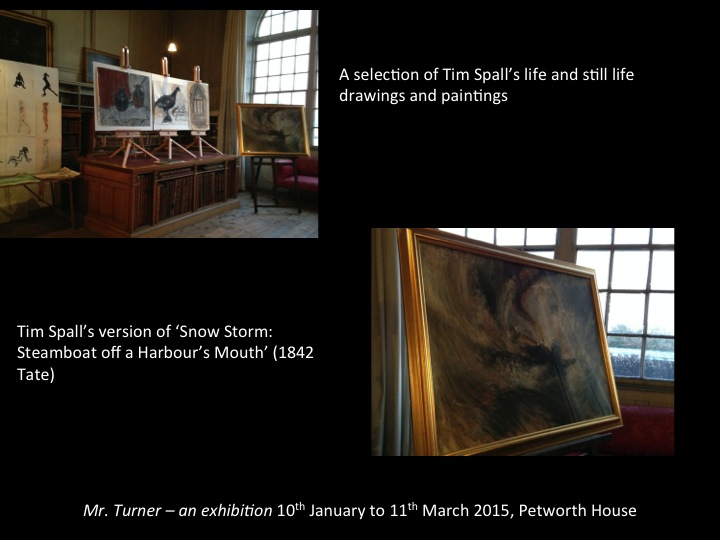 Photos by Jacqueline Riding.
With other characters, even those close to Turner such as his companion Sophia Booth (played in the film by Marion Bailey) and his housekeeper Hannah Danby, surprisingly little, considering the gamut of Turner biographies, has been written about them. Marion's research took her to the British Library where she listened to early recordings of Kent accents and dialects. While Dorothy, knowing Hannah was an avid reader (one of the few things we did know about her, aside from her appearance) became familiar with the works of Lord Byron and John Polidori's The Vampyre (1819). To fill in the gaps, I spent months in the London Library, which contains wonderful material, such as a housekeeping manual from 1813, and early travel guides to Margate and Kent, complete with boarding house room pricings and Steamer timetables. This information was used in the scene when Turner first arrives at Mrs Booth's boarding house. The housekeeping manual also provided a useful contemporary recipe for cooking a pig's head with stuffing, using the brains and breadcrumbs. Hannah is seen preparing this when William Turner senior arrives back from the colourman's shop and market. For the crucial basic information on Hannah Danby, Sarah Danby (Ruth Sheen), Turner's daughters Evelina and Georgiana (Sandy Foster and Amy Dawson) and Sophia Booth, we relied heavily on the detective work done by Selby Whittingham, another Turner scholar, on the family histories of the Booths, Danbys and Pounds.
Beyond Turner, his life and career the film required in-depth research into a host of different professions and subjects. To give an indication of the overall scale and scope of the research covered, at the beginning of the rehearsal period there were forty actors, which gradually expanded to seventy-six. In addition to Turner's family, household and fifteen fellow artists, among the characters are the natural philosopher Mary Somerville (Lesley Manville), the art critic John Ruskin (Joshua McGuire),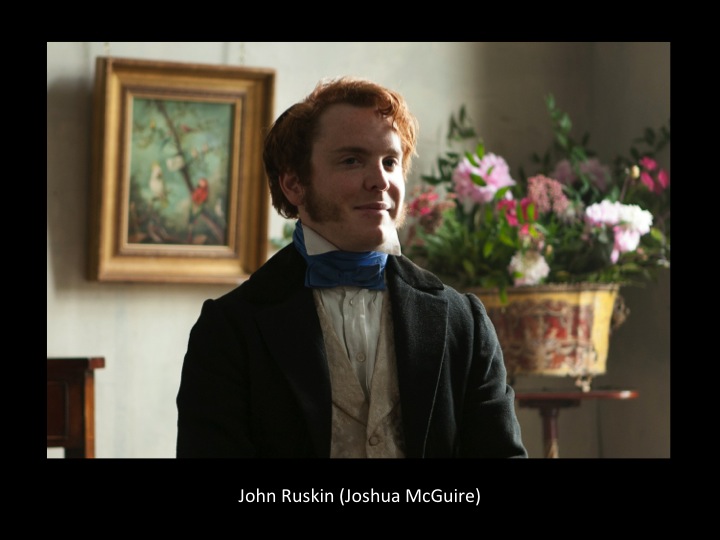 … his father John James (Stuart McQuarrie) a sherry merchant, his mother Margaret (Sylvestre Le Touzel) an evangelical Anglican, the Margate physician Dr David Price (David Horovitch), Mrs Booth's second husband (in the film a slave-ship carpenter, played by Karl Johnson), the daguerreotype photographer John Jabez Edwin Mayall (Leo Bill),
… the steel nib manufacturer and Turner patron Joseph Gillott (Peter Wight) and two prostitutes (played by Nicola Sloane and Kate O'Flynn). Throughout, the rehearsal team helped me to coordinate group and individual visits, character-specific training and specialist advice. Collectively the research took us from Kensington Palace to Berry Bros. and Rudd; the Royal Hospital and National Army Museum at Chelsea to the Royal London Hospital at Whitechapel; and Sir John Soane's Museum to the National Media Museum in Bradford. As William Turner senior's profession was barbering, Paul Jesson had lessons in traditional wet shaving, which you see him demonstrating on the pig's head and then Timothy Spall – I don't know what point Mike was trying to make with that juxtaposition – while Leo Bill had sessions on daguerreotype photography with expert David Burder.
Portrait copyright Sir John Soane's Museum. Set photo by Jacqueline Riding.
Nicholas Jones spent a morning discussing Sir John Soane's life and career at the architect's former home with Deputy Director Helen Dorey and archivist Susan Palmer – discovering that Turner and Soane shared a particular love of fishing and doggerel. The actors playing artists made several visits to the library and archive of the Royal Academy and there were several trips to Petworth House.
At the Royal Museums and Old Royal Naval College at Greenwich, the actors involved in the Royal Academy scenes covered everything from Lord Nelson, Trafalgar and the Temeraire to English decorative history painting and European marine art with the assistance of the museum's navy, decorative and fine art curators.
Portrait copyright Royal Museums Greenwich. Mark Stanley © Thin Man Films Ltd, photo credit Simon Mein.
Mark Stanley (Clarkson Stanfield) was advised by the Stanfield expert and Greenwich historian Pieter van der Merwe and read Piet's doctoral thesis on the artist from cover to cover. Apparently even Piet hasn't read it cover to cover.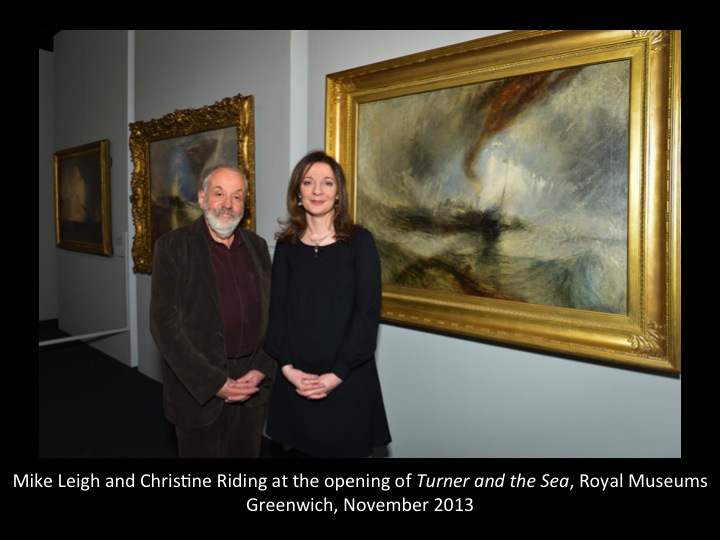 It was extremely timely for our research that the museum was about to launch the major exhibition, Turner and the Sea, curated by my sister Christine Riding and which Mike opened in November 2013. It has been calculated that 60% of Turner's entire output relates to the sea and coast – a fact which is inevitably reflected in the film. While talking to The Guardian at the Cannes Film Festival (2014) Mike mentioned that a previous interviewer had gestured towards the sea behind him and said "Wonderful Landscape" to which Mike replied "No, we Turner people call that a seascape."
The 'artists' also had drawing lessons with Tim Wright (painting consultant), hands-on pigment and oil paint classes at Winsor & Newton and back at U'13 Central, group discussions on the Royal Academy as well as broader art theory, history and practice.
Image copyright The National Gallery, London.
From very early on some form of reconstruction of Turner's most famous painting, The Fighting Temeraire (1839, the National Gallery, London) was discussed. Clearly computer-generated imagery would be required to recreate the ship and the tug, but the reality of the event was very different to Turner's vision of it. After she was decommissioned in 1838, the Royal Navy unceremoniously stripped the ship of anything useful including her masts, so she was effectively a hulk. This had happened to dozens of veteran ships from Trafalgar, with little if any interest shown by the public. The ship was accompanied up the Thames from Sheerness to Rotherhithe by two tugs and her last journey to the breaker's wharf began on the morning of 5 September 1838 to take advantage of the spring tides. Turner not only shows Temeraire masted and bathed in an ethereal glow, but moving away from an elegiac sunset, that is, towards the east, whereas Rotherhithe lies to the west. But then Turner's painting is essentially a construct of his own imagination using the bare facts of the event as a starting point.
That the scene in the film shows a masted war ship and a sunset, with Turner and his companions Clarkson Stanfield and David Roberts taking a boat on the Thames to see her last voyage is simply following Turner's lead. We knew that Turner and his fellow artists often travelled together to Greenwich, we also knew that Clarkson Stanfield was certainly in Italy in the September of 1838 and Turner probably wasn't there either.
The Temeraire scene, with the Royal Academy perspective lecture, the steam train and daguerreotype studio connects with Turner's curiosity for technology and science. In order to begin to understand the complex theories of perspective and more importantly Turner's interest in the subject, Mike, Tim and I had a session with the current Professor of Perspective at the Royal Academy, Humphrey Ocean. The perspective lecture was one of the few scenes that was scripted in advance. The dialogue came from one of the original versions of Turner's 5th lecture (which he delivered, or at least was supposed to deliver annually during his tenure), On Reflexes, in the British Library Manuscripts Department, with notes apparently in Turner's own hand.
Set image © Thin Man Films Ltd, photo credit Simon Mein. Lecture Diagram copyright Tate.
Having transcribed the entire lecture and then selected the precise moment to be used in the scene, we then had to match the drawings created by Turner to illustrate his ideas, so that Tim Spall could point at them with 'Turner's' umbrella.
In a similar way, the scenes with Turner's friend Mary Somerville focus on areas of mutual interest between the artist and the natural philosopher – nature, light and colour. With a vast amount of reading and the assistance of Professor Jim Secord at the University of Cambridge and Dr Marek Kukula, Public Astronomer at the Royal Observatory Greenwich, Lesley Manville got to grips with Mary Somerville's extraordinary life and career and more specifically, her character's experiments investigating the magnetizing properties of light (particularly the violet element of the spectrum) using nothing more complicated than paper, wax, a hammer, a bowl of water, a needle, a prism and sunlight.
In using such work-a-day, accessible items, Mary Somerville was demonstrating that anyone could engage with the great mysteries of nature. But in the context of the film, such detail – like Tim Spall painting, Paul Jesson shaving and Leo Bill setting up a camera – this was much more than just an interesting experience for the actor, because this particular experiment was to be re-enacted on camera. In fact Mary Somerville's conclusions that light, and in particular the violet element, had magnetizing qualities was disproved during her lifetime (the character herself states that in natural philosophy nothing can be proved, only disproved) but we were dealing with what was known and believed at that moment in time.
By the beginning of May 2013, we were on set and the weeks were now split between rehearsal and filming. During this stage if I wasn't preparing for the next location, working with a new actor or suggesting small changes to the set which might help the improvisation, I was sitting in on rehearsals, observing and commenting if needed, checking facts and language for historic accuracy, as Mike and the actors worked. This could be a large ensemble improvisation, such as the varnishing day scenes at the Royal Academy or the intimate conversations between Turner and Mrs Booth.
As an example, during the light experiment, Mary Somerville is invited to view Turner's private gallery. Before this scene was rehearsed and then shot, the paintings hanging in the gallery were changed for works either contemporary to the date of the action or known to be in Turner's studio at this time. This happened for every scene shot on this set, partly because Turner would have changed the display as the years went on, and partly to support the improvisations. Sometimes the decisions as to what was hanging and where were aesthetic: for example Dick Pope (director of photography) asking for a 'light' image to balance the shot. For the Mary Somerville scene, we included sea pieces and a preparatory oil sketch for Turner's largest and most ambitious work, The Battle of Trafalgar (now at Royal Museums Greenwich). The intention was to provide a potential topic of conversation between the characters, as Mary Somerville's father, Sir William George Fairfax, was a Vice-Admiral in the Royal Navy and fought at the Battle of Camperdown (1797).
Originally the painting on the far wall was an early Italian view. I suggested swapping this with Snow Storm: Hannibal and his Army Crossing the Alps (exhibited 1812) initially because the depiction of a mighty storm would surely attract the attention of a natural philosopher. But when standing in front of the image we began to discuss the layered meaning behind it, including references to Jacques-Louis David's monumental equestrian portrait of Napoleon Crossing the Alps (of 1801-5, which Turner saw in David's studio in the Louvre) and the French Emperor's disastrous retreat at the hands of a Russian winter in 1812. After which we moved on to ideas around the sublime and mankind's inadequacy when faced with the terrible power of nature. Mike asked me to reduce this discussion down to one word. And I offered "Hubris".
Copyright left Tate, right Malmaison.
One rehearsal on set in Southside House, Wimbledon (doubling as the Ruskins' Denmark Hill house) involved seven actors, including Timothy Spall and Josh McGuire, which began with a discussion on the cultivation of the gooseberry – apparently Sylvestre Le Touzel, playing Mrs Ruskin, said her character was only interested (aside from her son) in God and Gardening – and then moved effortlessly into the relative merits of the celebrated French seventeenth-century painter Claude Lorrain and Turner's own representations of the sea.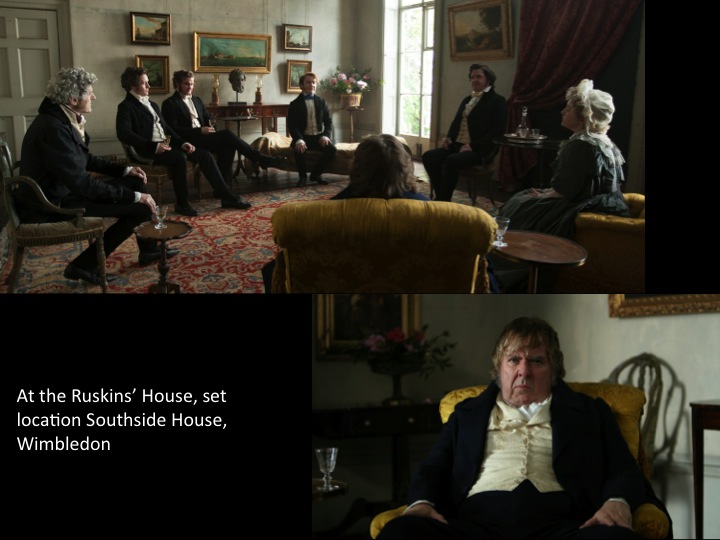 Josh McGuire had studied Ruskin's seminal early work Modern Painters, through which the critic emerged as Turner's eager champion – a situation to which the artist himself was very ambivalent. Josh and I had also consulted Ruskin expert Robert Hewison (who had just finished consulting on the film Effie Gray). The results are evident in this scene and the earlier one, where John and John James Ruskin discuss Turner's Slave Ship, 1840 (Museum of Fine Art, Boston), later bought by them as shown in the film. Here, as with every scene in the film, months – years actually – of preparation and graft gradually evolved through improvisations until it was ready to be shot.
During such rehearsals and improvisations information was constantly required, often at speed – not easy particularly in the middle of the Sussex countryside or on the Cornish coast with no internet access. The role of consultant historian and art historian on the film was to provide information, to advise, to comment and then stand back. As Mike says, this is a movie, not a documentary.
THANK YOU