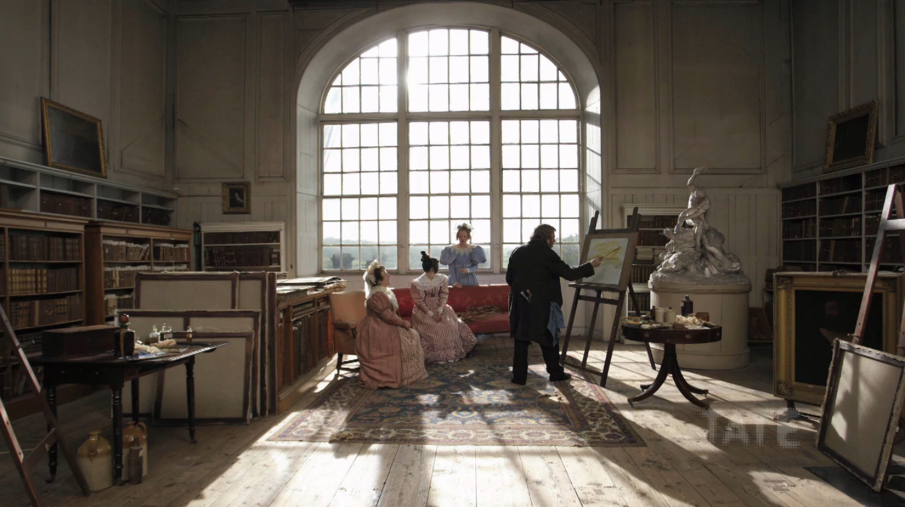 'Mr Turner' copyright Thin Man Films Ltd. Photo credit: Simon Mein.
Review of 'Mr Turner' Jonathan Romney, Screen Daily, 14 May 2014.
Dir: Mike Leigh. UK-France-Germany 2014. 149mins
Fictionalised art-historical biography has been one of the most fraught sub-genres in cinema. For all their virtues, films such as The Agony And The Ecstasy (Carol Reed on Michelangelo) and Lust For Life (Vincente Minnelli on Van Gogh) have demonstrated the pitfalls of trying to peer closely into the working lives of great artists, the dangers both of hagiography and of presumptuous psychologising.
In his portrait of the visionary British painter J.M.W. Turner, Mike Leigh not only elegantly avoids these perils, but offers a film as successful in its tiny details as it is in its epic amplitude: Mr. Turner works at once as a warts-and-all portrait of the painter and his circle, and as a large-scale evocation of Victorian England. The film brings its period so energetically alive that the viewer comes to inhabit Turner's age as intimately as we've inhabited the everyday Britain of Leigh's contemporary films.
Built around Timothy Spall's superb lead – but democratically highlighting many performances among its sprawling cast – Mr. Turner is hugely entertaining, deeply moving and will be especially tickling for anyone with a taste for sometimes grandiloquent, sometimes juicily profane period language. An eminently marketable tour de force that promises to expand Leigh's faithful international following, Mr. Turner shows one old master saluting another with irreverent brio.
Building on the achievements of his previous 19th-century venture Topsy Turvy, Leigh and his team offer another highly detailed picture of the English past – with credit due to the achievements not only of production designer Suzie Davies and costume designer Jacqueline Durran but also of researcher Jacqueline Riding. Structured fragmentarily, the film covers the last 25 years in the life of Turner, shown as a solitary, cantankerous, uncompromising figure devoted to his art – sometimes tender, sometimes harsh or neglectful of his intimates, sometimes (we feel) deeply knowable but at others seemingly opaque.
After a prelude showing Turner painting in the Netherlands, the film skates from episode to episode. He comes home to London where he is greeted by his father, a retired barber (Paul Jesson) with whom he has a gruff but tender rapport (they call each other 'Billy' and 'Daddy') and his housekeeper Hannah Danby (Dorothy Atkinson), who loves Turner and is sometimes his partner in brusque sex, but who is generally treated by him as a menial; in fact, much of the film's emotional power comes from the sorrows of this mistreated, and psoriasis-afflicted woman.
Other key figures include the learned Mary Somerville (Lesley Manville) who joins Turner for an experiment in light and magnetism; marginalized and embittered painter Benjamin Robert Haydon (Martin Savage); and Sophia Booth (Marion Bailey), in whose Margate boarding house Turner takes a room, and whom he later starts courting in a scene that's all the more tender for its taciturn delicacy. Many Leigh veterans give their best – among them, Manville, Savage, Ruth Sheen (magnificent as Turner's spurned mistress) and Peter Wight, as a banknote-brandishing man of industry.
But the film also offers some revelatory performances from less familiar names such as Jesson, Atkinson and Bailey, whose characters are as richly limned as any in the Leigh catalogue. And there's a very droll scene depicting eminent penseur John Ruskin (Joshua McGuire) as a garrulous, grandstanding fop – seemingly Leigh's barb at his own critics, even the adulatory ones.
It's been common to call Leigh a 'Dickensian' director, for his interest in the rough edges of character, and that's certainly an applicable term for a film that evokes Victorian Britain with a novelistic sweep. In fact, Leigh's aesthetic here – both visually and in terms of social documentation – recalls not so much Turner, whose visionary swing towards near-abstraction is elegantly evoked, as painters like Haydon, whose 'Punch, or May Day' (1829) offers a parallel for this film's ability to capture both a wide social tableau and the individual faces within it.
The film is as keenly focused both on fine detail and on the overall quotidian grubbiness of Victorian Britain, as well as the splendour; cinematographer Dick Pope evokes this world's textures as tellingly as he did in Leigh's other period pieces Topsy-Turvy and Vera Drake. There's just one misstep: a CGI evocation of the scene that inspired Turner's beloved painting 'The Fighting Temeraire', the only moment at which the film sails close to standard art-biopic tropes, with the faintest edge of hyper-realist kitsch.
Overall, though, Mr. Turner is up there with cinema's finest art-biography evocations – the likes of Peter Watkins's Munch and Paul Cox's Vincent And Theo, about Van Gogh and his brother. It's an ensemble film par excellence, but Spall makes a magnificent centre to the film, as a deeply eccentric, gruff, proudly individual man, huffing and grunting like a turkey, sometimes expressing deep pain, and cheerfully flaunting his knowledge of the classics – a man all in all suffused with the proverbial lust for life. Moving, scholarly and serious as it is, Mr. Turner may be the most entertaining art biopic yet made – a grand canvas of inexhaustible riches.